*** EXCLUSIVE! ***

If you have RealAudio,
Listen to Mario himself speak about his books;
recorded especially for this website!




LISTEN!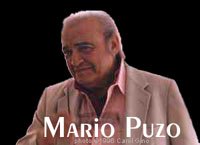 Audio content copyright © by Mario Puzo
Not to be posted or used without permission
Sound Recorded by Carol Gino
Sound Edited by J Geoff Malta

Special Thanks to:
Mario Puzo and Carol Gino for their help!